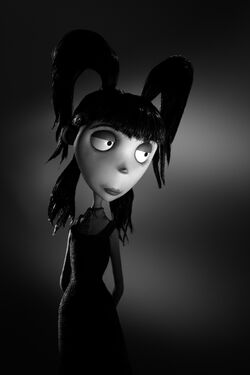 Elsa Van Helsing is a character in Frankenweenie.
Elsa Van Helsing is a soulful and somber classmate of Victor. She lives next door to him with her grumpy uncle, Mayor Burgemeister, who forces her to be this year's "Little Dutch Girl" at the town's celebration of Dutch Day. Elsa also has a beloved pet poodle named Persephone, and truly empathizes with Victor when he loses Sparky. She is also Victor's girlfriend.
Biography
Edit
Official Description
Edit
Gender: Female
Age: 10 - 11 now
January 18
Favorite Color: Black,White,Purple,Blue,Yellow
Personality
Edit
Elsa is a serious, sensitive, caring and gentle girl.
Her appearance looks like a female counterpart to Victor. Elsa is very close with her poodle, Persephone as much as Victor is to Sparky.
Although she and Victor may not show it, but the two neighbors appear to be in love, especially since Victor nearly risked his life to save Elsa from death. Elsa sympathizes easily with Victor when he loses Sparky.
Elsa's last name is a reference to Abraham Van Helsing, a vampire hunter and Count Dracula's archenemy.
This is also referred in her battle against the Vampire Cat.
Like Lydia, Elsa is Goth as well.
Elsa's first name was named after the actress Elsa Launcher, the woman who play Boris Karloff's The Bride Of Frankenstein.
Elsa's parents are never revealed in the movie.
Victor Frankenstein is also older than Elsa Van Helsing.
Ad blocker interference detected!
Wikia is a free-to-use site that makes money from advertising. We have a modified experience for viewers using ad blockers

Wikia is not accessible if you've made further modifications. Remove the custom ad blocker rule(s) and the page will load as expected.