Mayor Burgermeister's Dutch Day is a county fair mixed with a Octoberfest carnival. Unfortunately the monster pets head their way towards indecent people of New Hollanders.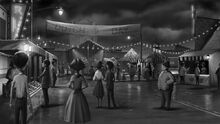 Elsa Van Helsing is the star Dutch girl.
Dutch Day is a similar celebration to Christmas and Halloween.
The monster pets attacking the Dutch Day carnival references villagers being plagued by monsters from horror movies.