Cool news, Frankenweenie fans! Disney Publishing is going to be releasing a Frankenweenie iBook for Tim Burton's new film! This interactive book captures the creative process from concept to completion. It integrates videos, vibrant music, and original sketches to offer readers a fully immersive behind-the-scenes look into the making of the movie! Check out the sneak peek gallery here:
Frankenweenie: An Electrifying Book incorporates a brief history of the 1984 live-action short film and details the upcoming full-length stop-motion animated feature, including a foreword by Academy Award®-winning actor Martin Landau (the voice of Mr. Rzykruski in the film) and introductions to over 200 resident puppets of New Holland (with a special introduction to Victor and Sparky), as well as a look into "The Art of Frankenweenie Exhibition" that is now on tour.
There's even going to be a chapter on the film's music that includes previews of each track from the original motion picture score by Oscar®-nominated and GRAMMY®-winning composer Danny Elfman and from Frankenweenie Unleashed!, a 14-song compilation of music from and inspired by the film, featuring artists including Karen O, Neon Trees, and Kimbra. How cool is that?!
You can get Frankenweenie: An Electrifying Book now for free exclusively on the iBookstore in 32 countries around the world!
Still debating? Check out this cool video for the book: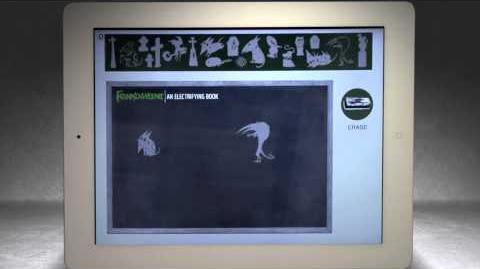 ---
---
Ad blocker interference detected!
Wikia is a free-to-use site that makes money from advertising. We have a modified experience for viewers using ad blockers

Wikia is not accessible if you've made further modifications. Remove the custom ad blocker rule(s) and the page will load as expected.