Lucky viewers were able to see Frankenweenie a little bit early by going to the genre film festival, Fantastic Fest! For everyone else who didn't make it to the festival, the movie is only a few weeks away with the premiere being October 5!!
For Frankenweenie fans, Disney has released a new poster for its IMAX midnight premiere, happening at 12:01 am on October 5, to celebrate the midnight monster movie spirit of the film!
Check it out: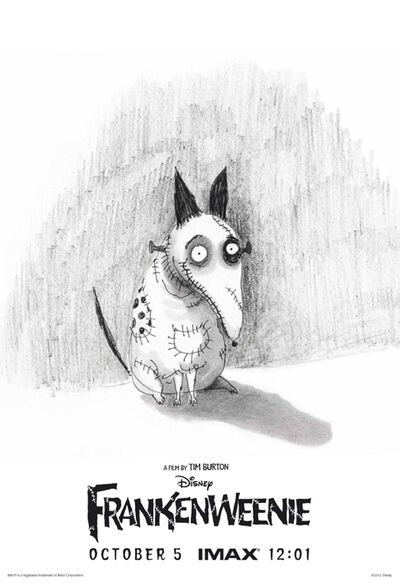 Doesn't Sparky look cute?! Just hold on a little bit longer because Frankenweenie will be out soon!!
Are you going to watch Frankenweenie in theatres?
---
---
Ad blocker interference detected!
Wikia is a free-to-use site that makes money from advertising. We have a modified experience for viewers using ad blockers

Wikia is not accessible if you've made further modifications. Remove the custom ad blocker rule(s) and the page will load as expected.